Caster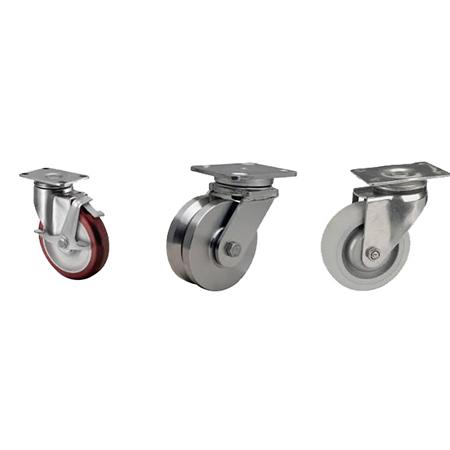 YKDM mainly offers three types of mobile casters: directional casters, universal casters and universal casters with brakes. They are quite suitable for equipment used in hospitals, kitchens, grocery stores and supermarkets.
The casters can be mounted on the bottom of kitchen equipment by galvanized mounting plates, stainless steel plates, and threaded connection. The caster brackets can be spray coated. The load-bearing capacity will depend on the tire size, ranging from 35 to 150kgs. According to your individual kitchen equipment and needs, we will work with you to make sure you get the right casters.
The casters range from 2.5 to 5 inches. The raw materials vary based on your application and equipment needs and include stainless steel, PV, PU, and nylon. There are different types of casters available, including rigid casters, fixed casters, and swivel casters. Rigid casters tend to be stronger than swivel casters.
Casters are available in a wide selection of raw materials, sizes, styles, colors, plate sizes, plate weights, threaded studs and more.
Here at Dongming Industry and Trade, our factory is outfitted with many pieces of advanced manufacturing equipment to carry out the cutting, stamping, forging, welding, forming, and polishing of your stainless steel products. Our experienced team of inspectors maintains tight control over every step of the production process to ensure a high level of quality. Combining with this high-performance factory with our high-level experience, we have a recipe for success in this industry, enabling us to supply quality custom stainless steel parts at competitive prices.
All our products are RoHS, UL, and SGS certified. With hard work, superior quality, and dependable service, we have achieved ISO9001, EMC, and 5S (Sort, Set in order, Shine, Standardize, Sustain) certifications.
Contact Us

No.16 Yingui South Rd, Chengxi New District, Yongkang City, Zhejiang Province